Job description
A Service Advisor is the first point of contact for customers coming into our shop. They build strong, trusting relationships with our customers, and are the liaison between our customers and the service technicians.
Our Service Advisors must:
• Be well organized
• Deliver excellent customer service
• Have strong communication skills in person, by telephone, and by email
• Be trustworthy and responsible
• Have a strong work ethic
• Be flexible enough to learn on the job in this fast-paced environment
The service advisor will be responsible for:
• Scheduling appointments
• Creating work orders
• Communicating with customers and relaying customers concerns to the service technicians
• Answering the phone
Requirements:
• High school diploma or equivalent
• Experience in customer service OR in the automotive industry is a MUST
• Familiarity with computers, Microsoft Outlook, and internet browsing
• Experience as a Service Advisor is NOT required
Job Types: Full-time, Permanent
Salary: To Be Negotiated
COVID-19 considerations:
All customers are required to wear masks; surfaces are cleaned regularly.
Please Email a resume or drop one off in person!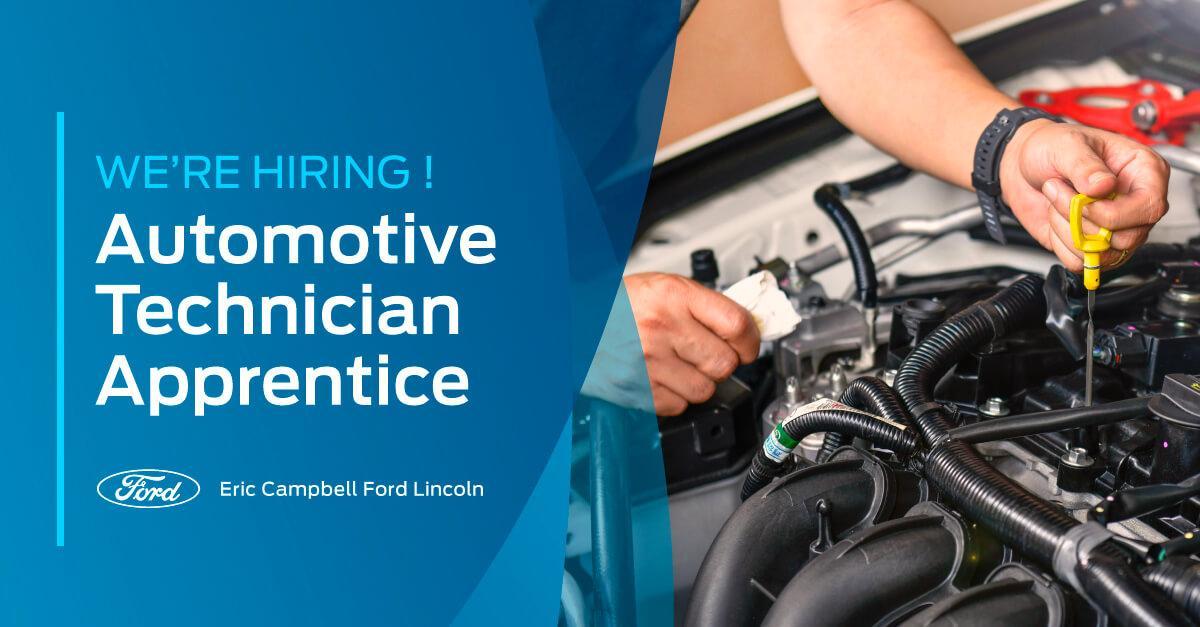 Automotive Technician Apprentice
Published on : October 15th, 2021
Eric Campbell Ford Lincoln is looking for a full-time Level 1 or 2 Apprentice Tech. to join our team.
We are seeking a hard-working individual with attention to detail and a willingness to learn.
Responsibilities Include :
Oil & Filter Changes
Wiper Blade Replacement
Tire Rotations, Repairs, and Installation
Maintaining shop cleanliness
The successful candidate must :
be able to work in a fast-paced environment
have an attention to detail
obtain a valid driver's license
be able to work as a team and independently
have own tools
be physically fit and able to lift heavy tires
What we offer :
Benefit program after 90 days
Supplied uniforms and equipment if required
Education and Experience :
Minimum 1-year Tire and lube Technician Experience
High School or Equivalent
If this sounds like you, please come in and see us!
Job Type: Full-time
Additional pay : Overtime pay
Experience : Automotive technician: 1 year (preferred)
Licence/Certification : Drivers License (preferred)
Benefits :
Dental care
Extended health care
Life insurance
On-site parking
Vision care
To apply, please send an e-mail to Steve Campbell, General Manager, to